The Center of the Universe: A Memoir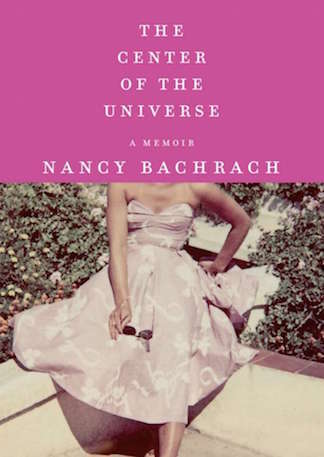 The story is so improbable, it can only be true: A brilliant woman with a long history of mental illness — who once proclaimed herself to be "the center of the universe" — is miraculously cured by accidental carbon monoxide poisoning aboard the family boat. Nancy Bachrach warns readers, "Don't try this at home" in her darkly humorous memoir about "the second coming" of her mother — the indomitable Lola, whose buried family secrets had been driving her crazy.
Aching and tender, unflinching and wry, THE CENTER OF THE UNIVERSE is a multigenerational mother-daughter story—a splendid, funny, lyrical memoir about family, truth, and the resilience of love.
"Dazzling. A darkly comedic style that recalls David Sedaris or Joan Rivers. It's Bachrach's ear and eye for language that makes her voice distinct and haunting."
—San Francisco Chronicle

"One of the funniest writers I've ever read, period. Make room on the shelf next to Sedaris, Eggers, Wilsey."
—Alexandra Fuller, author of Cocktail Hour Under the Tree of Forgetfulness


"Bachrach's moving memoir is just out from Knopf. That it's harrowing isn't surprising — but that it's shockingly funny is. When I went to hear Bachrach read to a large crowd in New York, she was constantly interrupted — as she wished to be — by the audience's laughter."
—MORE Magazine

"Hugely entertaining but deeply empathetic. Middle-class, secular, Jewish sensibility and sensitivity at its best. It's like watching Philip Roth letting his hair down. Profoundly moving."
--Azra Raza, author of The First Cell
"The #1 Dysfunctional-Family Literary Gem" —Huffington Post

"15 Must-Read Memoirs" —MORE Magazine
"You couldn't make this up...a hilarious account of [her mother's] recovery...from 'permanent, irreversible' brain damage."
—The Boston Globe

"The tale of Lola's instability alone would earn this book a prize spot among the ever-growing genre of crazy-mother memoirs. But this one also has a can-you-believe-it twist straight out of daytime TV...."
—The Washington Post

"Provides an honest look at mental illness, family, and true love."
—Charleston City Paper

"Marvelous. . . . A 5-star memoir of a difficult subject."
—Armchair Interviews

"A sophisticated, funny debut. . . . With smart, subtle prose, Bachrach limns a journey toward love that feels fresh, organic and as unpredictable as life itself."
—Kirkus Reviews

"[The Center of the Universe] has a freshness and loopy humor . . . infused with humanizing pathos, and readers may well tear through this compelling read in a single sitting."
—Booklist

"Piquant and ribald...Bachrach's prose is wry, risky, and feels like she has found her moment at last."
—Publisher's Weekly


"Bachrach finds her literary voice. Spirit is written into every chapter."
—Providence Journal

"Hard to put down: This zany family memoir is the ultimate mother-daughter story."
—Rhode Island Reads

"A delightful memoir of a family's response to a bittersweet tragedy... Readers will...end up loving 'Lola,' and wishing they had a lunch buddy who can tell a funny story like Nancy."
—Curled Up With A Good Book

"Of the many ways to deal with a father's sudden death and a mother's injury and madness, Nancy Bachrach chooses breezy comedy. Like the best of the stand-ups, she pushes the wisecrack and irony to the outer limits in this smart, fast-paced family memoir of disaster."
—Alix Kates Shulman, author of To Love What Is: A Marriage Transformed


"A sparkling memoir...Vivid and vibrant...Filled with wit and humor....An eminently successful portrayal of a family, effectively combining cleverness with banter and grief with farce to demonstrate the close linkage between comedy and tragedy."
—The Jewish Chronicle

"If there's a black-comic angle, Bachrach will find it....Bachrach's book – unsentimental and all the more moving for it – is ultimately about a universal condition: the renegotiation of the adult child's relationship with her parent."
—The Austin Chronicle

"Every once in a while you come across a memoir that resonates so true to your life that you think, 'If I were only as witty and charming, I could have written that!' Even if you are lucky enough not to over-identify with Bachrach's completely crazy mother, you're bound to be moved by this terrific book."
—Ayelet Waldman, author of Love and Other Impossible Pursuits

"[Bachrach's] acidly funny exasperation, her palpable pain, her volatile mixture of love and loathing for what her parents put her and her siblings through feels genuine. And it makes for riveting reading....Part of the story is rollicking stuff, but dark currents underlie the hilarity....By the time the book ends, love has conquered chaos, tenderness flows like a healing balm and Lola's insistence that she is the center of the universe doesn't seem so crazy after all."
—Hartford Courant

"Nancy Bachrach is a sharp observer of all around her and has a piercing ironic humor that serves as a dearly needed life preserver. The Center of the Universe is one of those stories that grabs you by the throat and leaves you proud of our capacity to survive and laugh and enjoy."
—Anne Roiphe, author of Epilogue: A Memoir

"...a fascinating blend of dark humor, stark reality and crisp writing."
—Tucson Chronicle

"The Center of the Universe is a beautifully written symphony of lunacy and hilarity. Nancy Bachrach has the comic touch."
—Robert Klein, author of The Amorous Busboy of Decatur Avenue